I can't believe that the 1st month in 2018 is almost over, what th...?  After a successful run of "Ham for the Holidays: The Hamchurian Candidate" at ACT in December, and then making it through Xmas...I crashed. Lynn and I took a quick trip to NYC in early January to see Bette Midler in "Hello Dolly" (fantastic!), and also caught "Come From Away" (glorious).  We managed to miss the East Coast deep freeze by 1 day, huzzah.  
I just returned from a 3 night run in Laguna Beach, CA with my ridiculous pals Roxanna Ward and Vickie Shaw. God, I love those women.  We had tons of fun, and I got to meet Vickie's newest grandbaby,  Miss Effie Morris.  She's a beauty! (photo below with the Barstow Gay Men's Chorus - Lisa, Vickie, Rox-- Effie is in front, of course).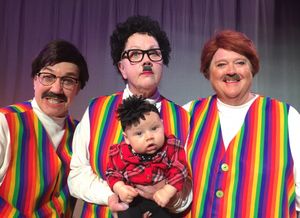 My birthday is coming up next week, and time for another Big Ass Birthday Bash at the Triple Door (Feb 8). I am really looking forward to it.  Rox, Vickie, Barbara Higbie, and a pile of friends and family will be onstage with me.  My favorite night of the year, truly.  
30 years sober, twice that in birthday years (for a few more days!), and grateful for every moment...  Lisa